In the current market environment, most mortgage REITs don't have many options.
Option 1: Cut dividend
Option 2: Do not cut dividend (make it look like you can cover the dividend)
Option 3: Raise the dividend when you should be cutting it.
Two Harbors Investment Corp. (TWO) has chosen option number 3. Depending on perspective, the options will go in a different order. Option 3 involves raising the dividend and attempting to trade at, or close to, a premium (price to book value). Issuing new shares can keep a company afloat if the underlying strategy can't cover the dividend. Issuing new shares increases total equity which is great for external management. External management usually gets about 1.5% of total equity annually.
What's the easiest way to look good while book value is suffering? Make core earnings look good…
Core earnings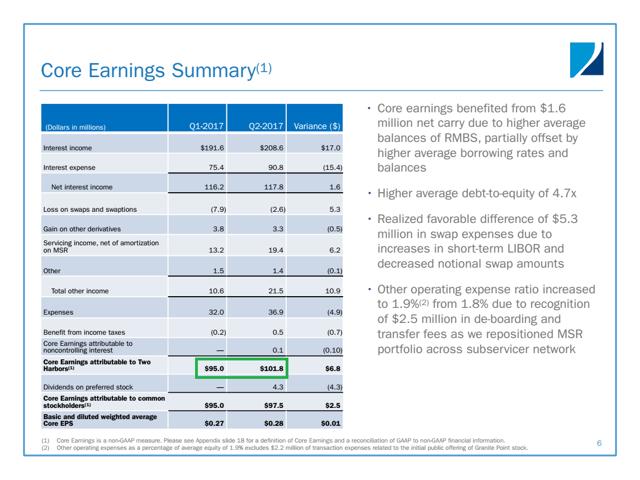 This is a great slide. More mortgage REITs should do this. They started with interest income and built their way down to core earnings rather than going from GAAP net income to core earnings. This slide adds a great deal of value because it makes it simpler to break down the metric and the change from quarter to quarter. For instance, core earnings before preferred dividends would've been up $6.8 (the difference in the green box). That could be attributed partially to having more equity to leverage (from the preferred shares) or to the increase in servicing income net of amortization. Either would be a viable argument.
Dividend and operating expenses
The dividend on book is about 10.44%. TWO is externally managed, so we can assume the expenses are going to be high. Let's break down the expenses over the last three years.
2015 & 2016: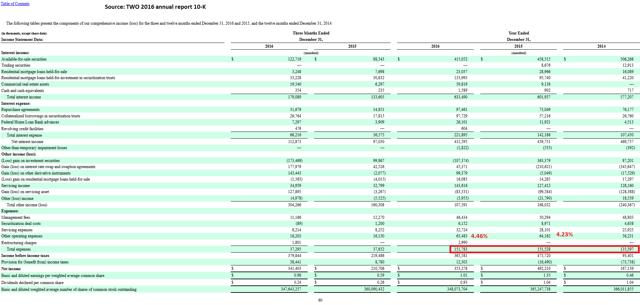 Common equity was larger in 2014 and there were less expenses. The expense ratio in 2014 was around 3.2%. Over the last three years the expenses have jumped over 4%.
Here's the operating expense ratio this year: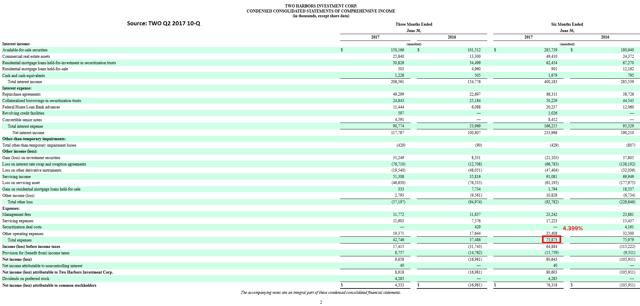 Net interest income from TWO needs to cover more than 14.8% on common equity. TWO can't sustain the dividend, and it's rare for external managers to take a material pay cut. The company looks to be covering the dividend using a "creative" hedging strategy. Short term, they will be paying out the dividend. Long term, the dividend is not sustainable.
Management of TWO is generous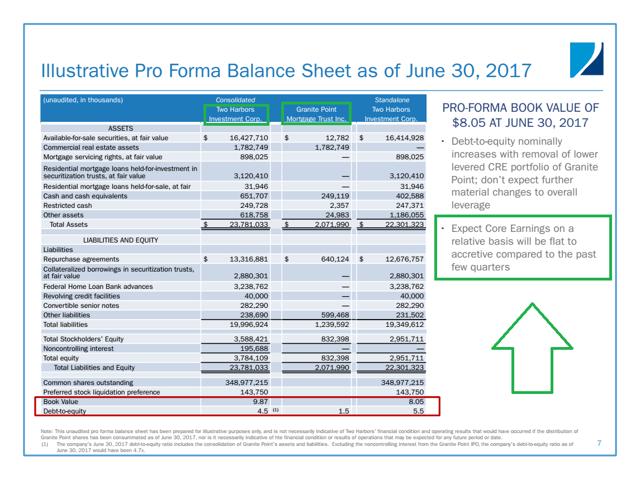 This breaks down the positions of TWO and Granite Point Mortgage Trust (GPMT). It effectively demonstrates what TWO would look like without the consolidation of GPMT. That's excellent since GPMT shares will be distributed to TWO shareholders. This is the kind of work I occasionally need to do, but management of TWO performed the work. That was generous of them.
Note: TWO will be spinning off shares of GPMT. Afterword, they will undergo a reverse split 2:1. The actual dividend amount over the next couple of quarters may confuse many investors. I expect dividends from TWO after the reverse split to be less than twice the previous amount. The biggest factor is the distribution of GPMT.
Management says core earnings should be flat to accretive on a relative basis. That makes sense because GPMT wasn't fully leveraged up and investors are told not to expect "further material changes to overall leverage". If they intend to run debt to equity near 5.5, where they would be as a "Standalone", that would push core earnings up as a percentage of equity. However, there will be less equity left in TWO, so core earnings would decrease overall.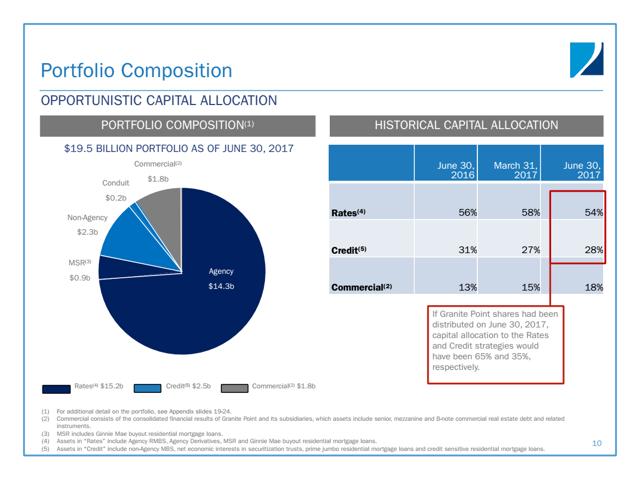 The historical capital allocation shows that when GPMT is separated the portfolio should have nearly 2/3rds of equity allocated to the "rates" strategy. That means primarily agency MBS. Remember, the agency RMBS spreads aren't great now. There has been a shift since early 2016: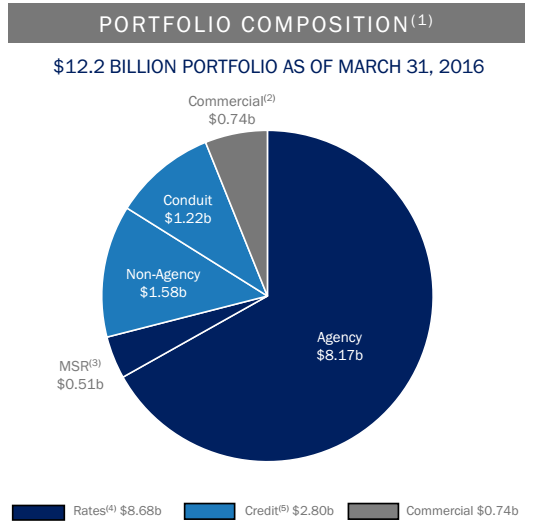 Commercial was 4% of the portfolio in Q3 2015 and now it's moved up to 18%. Conduit was 16% of the portfolio in Q4 2015. Now, it's that little sliver in the pie chart.
MSRs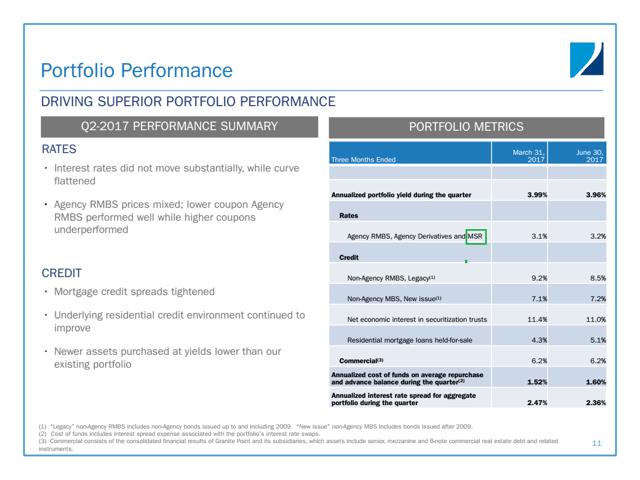 The use of MSRs is interesting. Mortgage Servicing Rights have generally performed poorly for most mortgage REITs over the last few years. Because LIBOR rates moved higher, the MSR technique might be a superior hedging choice. Management points out that this mitigates the impact to book value in a spread widening scenario. Spread widening is a risk I've been warning investors about. I haven't decided how I feel about the choice to use MSRs. Previously, I was highly critical of mortgage REITs for excessive use of MSRs. The risk/reward ratio might have changed, but I'm not ready to commit to that idea.
Dividend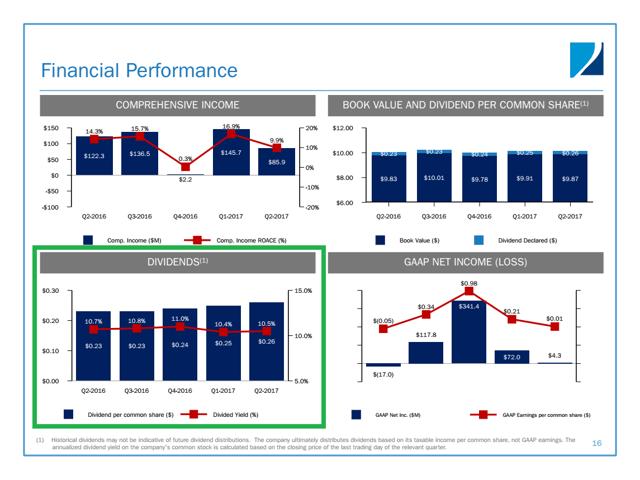 They have been slowly increasing their dividend rate, which I don't think management will change. They want a premium valuation to book. This is about generating new shares to raise management revenues.
Hedging
This slide shreds their hedging technique: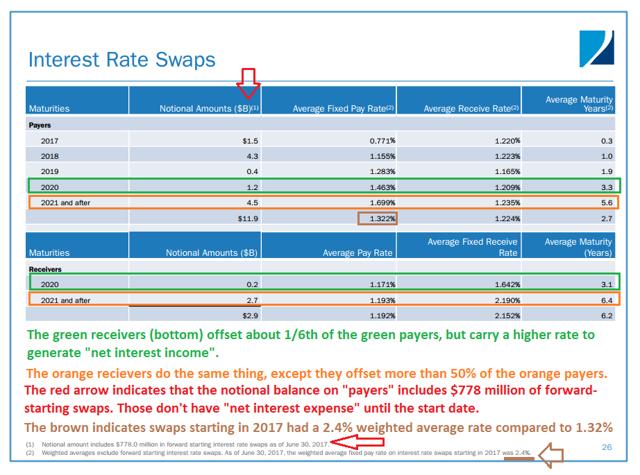 Net interest income is "enhanced". Dividend unlikely to be cut, but it includes returning book value rather than a return ON book value. It is sustainable in the same way that pulling money out of your savings account is sustainable.
What's interesting is how much effort TWO is putting into "enhancing" net interest income. First, let's look at AGNC, who has 4x more agency securities. AGNC is terminating interest rate swaps:

AGNC terminated $19 billion worth of swaps over the entire year in 2016.
Now let's jump to TWO. Keep in mind TWO has about ¼ as many agency securities:

TWO terminated around the same notational value of swaps in 6 months as AGNC did last year.
Conclusion
Compared to peers, TWO makes is fairly straight forward with most of their accounting. When it comes to net interest income, it's being enhanced through hedging techniques. When TWO spins off shares of GPMT, the higher leverage that remains should enhance the reported level of core earnings. These hedging techniques are not relevant to GPMT's business. Therefore, with a larger portion of equity invested in the rates strategy this technique may be used even more next year.
Book value per share has not suffered. The fair value on non-agency RMBS has increased materially over the last year. The gains to book value from non-agency RMBS are not likely to repeat.
The dividend is likely to be sustained in the near term. It might even be raised. It isn't actually covered. Eventually, this should eat into book value. Over the long-term, this level of dividend can't be sustained with a flat yield curve and weak spreads.
Click The REIT Forum to sign up for:
Actionable buy and sell target prices
Best research on preferred shares and REITs
Best reviews on the site – 284/285 stars
Stable dividend yields over 7%
You get instant actionable SMS alerts.
Sign up before November 1st, 2017 to lock in at $370/year
Disclosure: I am/we are long GPMT.
I wrote this article myself, and it expresses my own opinions. I am not receiving compensation for it (other than from Seeking Alpha). I have no business relationship with any company whose stock is mentioned in this article.
Additional disclosure: No financial advice. Investors are expected to do their own due diligence and consult with a professional who knows their objectives and constraints. CWMF actively trades in preferred shares and may buy or sell anything in the sector without prior notice. Tipranks: No ratings in this article.