Skilled Nursing Facilities (SNFs) are a type of senior housing that admits seniors discharged from hospitals and that require professional post-acute care delivered by qualified nurses and therapists, as prescribed by their attending physicians. SNFs fundamentally differ from other types of senior housing in terms of the specificity and complexity of care required by the seniors (aka patients), lengths of patients' stay, and the presumption that patients will resume independent living after the necessary period of treatment or therapy. Another point of distinction is the SNF payer mix which includes both public (i.e. Medicare and Medicaid) and private sources (i.e. insurance, out-of-pocket). Having Medicare and Medicaid as majority payers exposes SNFs to complications around collecting payments, due to changing, if not also increasingly stringent, parameters to qualify for reimbursements. On top of that, there are also new quality data reporting requirements to comply with, in order for an SNF to maximize Medicare incentives. Such incentives are made available to providers with the documented ability to meet target patient and treatment/therapy quality outcomes.
As a site for post-acute care for patients with adjacent or potentially overlapping profiles (see intensity of care and patient acuity spectrum below), SNFs may face greater competition from Home Health Care providers (HHCs) in addition to other settings that offer out-of-home services. This notion is not far-fetched, especially when Medicare touts HHCs as "usually less expensive, more convenient, and just as effective as care you get in a hospital or skilled nursing facility (SNF)." A 2017 Deloitte study entitled "Viewing post-acute care in a new light: Strategies to drive value" acknowledges this perceived appeal of HHCs, stating "Home health is a highly cost-effective site of care and consumers find it attractive."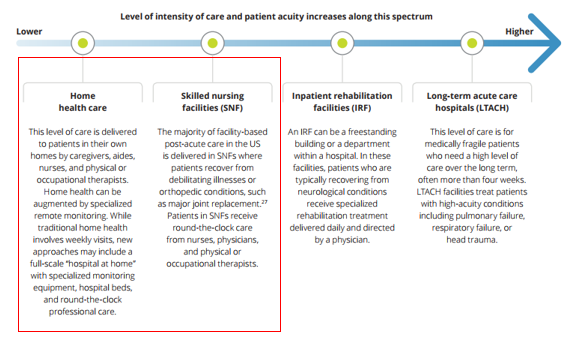 Source: Deloitte Study 2017
Nonetheless, the latest available MedPac Data Book on Health Care Spending and the Medicare Program shows SNFs is the primary post-discharge destination of Medicare fee-for-service (FFS) beneficiaries.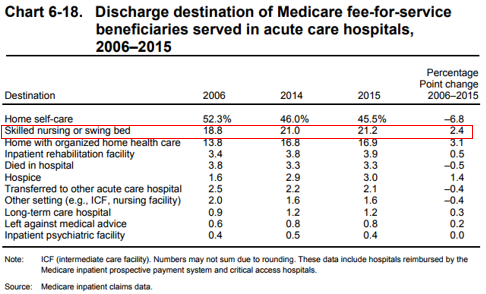 Source: A Data Book: Health Care Spending and the Medicare Program (2017)
SNFs are among the industries seen to benefit from the senior demographic population boom, which fuels demand for senior housing options "from active age-targeted communities for new retirees or near-retirees, to facilities with graduated levels of living assistance and health care." According to the Price Waterhouse Cooper and Urban Land Institute study "Emerging Trends in Real Estate® United States and Canada" (2018), the target cohort for SNFs is the 82-to-86-year-old bracket, whose members will also be increasing in the millions.
OHI Profile and Strategy
Omega Healthcare Investors (OHI) is a real estate investment trust (REIT) that provides financing and capital to operators of senior housing and healthcare facilities, majority of which are skilled nursing facilities (SNFs) or transitional care facilities. 84% of its investments flow to SNFs, while senior housing takes the remainder. SNFs account for 88% of revenue.
It is the largest SNF REIT with upwards of 101,000 beds in 999 operational facilities across 42 states (including the United Kingdom). The properties are leased to 77 operators under triple net agreements. Rental payments from its operators, which depend on service fee payments from an array of public and private payers, make up 88% of the company's revenue.

Source: Investor Presentation, November 2017
OHI maintains operator and geographical diversification, where no single tenant or state contributes more than 10% to total rent.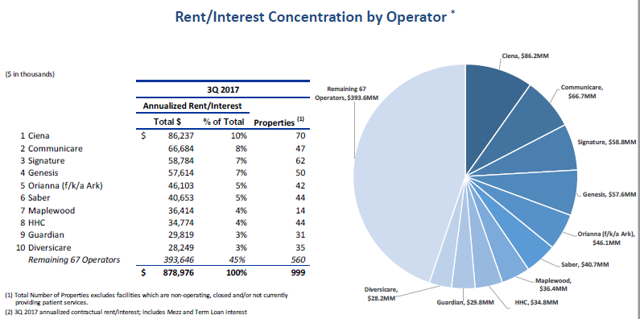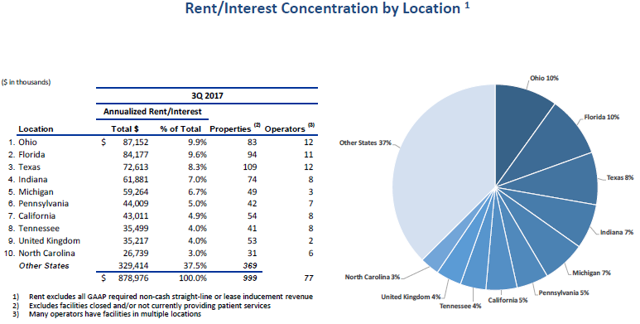 Source: Supplemental Information Q3 2017
OHI Strategy
The company is focused on growth via accretive investments within the senior healthcare space and core markets, while leveraging its existing operator relationships. Acquisitions are funded through the use of credit facilities, which are replenished with long-term debt and equity issuances. As of October 31, 2017, approximately $910 million of combined cash and credit facility was available.
Despite incessant industry headwinds, OHI regards market fundamentals as attractive. OHI posits that SNFs are the preferred post-acute care environment, as these receive 49% of Medicare hospital discharges.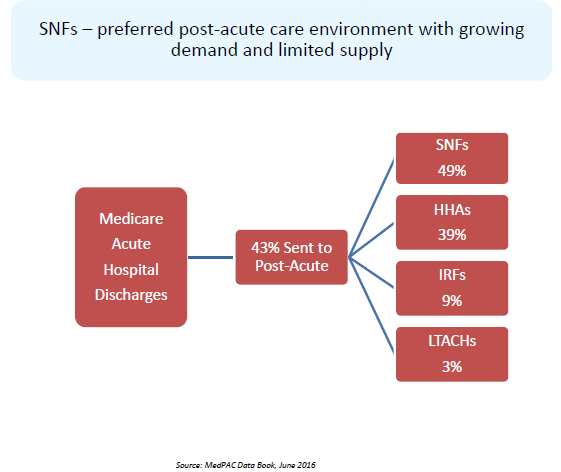 Source: Investor Presentation, November 2017
OHI believes that its existing beds will inevitably benefit from increased occupancy, amid growing demand (thanks to the aging population) and limited supply (due to restrictions in licensing new SNF beds).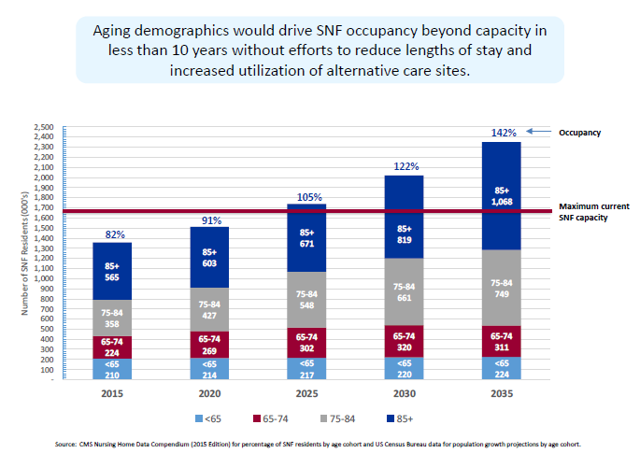 Source: Investor Presentation, November 2017
OHI also anticipates SNF Medicare patient days to increase (due to increasing enrollment), despite reduction in lengths of stay under non-traditional payment models espoused by the incumbent Department of Health and Human Services (DHHS) and Centers for Medicare & Medicaid Services (CMS).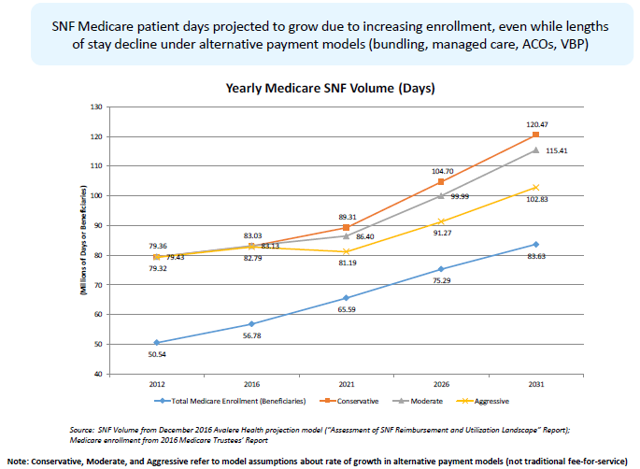 Source: Investor Presentation, November 2017
Recent Performance
Tenant troubles discussed in the 2nd quarter earnings call appeared to persist all throughout the 3rd quarter. Orianna, Signature, and Daybreak were named as three operators faced with difficulties in keeping up-to-date with rent payments, per OHI due to reasons unique to each and in no way symptomatic of an industry-wide problem. As OHI CEO Tony Pickett pointed out during the earnings call Q&A, Orianna occupancy declined from 92% to 89%, a result not shared by the rest of their operators. It was emphasized that the Orianna portfolio is very high quality and could perform better under another operator.
Among the three, Orianna is deemed most problematic because it is one of the top ten operators and because it has already been subject to extensive interventions initiated in previous quarters – to no avail. Efforts to correct the course of Orianna included a revised operating plan, a new management team, and rebranding efforts, as well as the transition of the troubled Texas properties to another OHI operator, and the sale of Northwest properties. However, the remaining portfolio remained unproductive. Budgets continued to fall short of expectations and rent continued to be unpaid. Orianna was consequently placed on cash-basis accounting.
As of the 3rd quarter, the conversation between OHI and Orianna was around developing an out-of-court plan involving "the potential transition and/or sale of certain assets versus a federal or state court restructure,"which is expected to "result in cash rents of $32 million to $38 million per year, as compared to the current annual contractual rent of $46 million," per OHI CEO Taylor Pickett.
Since we originally published this article, Orianna has filed for bankruptcy, which paves the way for the transition to another operator, even though that process was already in the works. After the bankruptcy announcement, OHI released a statement stating that its FFO forecasts have not changed, as they had already baked in $32-$38 million in post-transition rent stated above, which they still expect to be on target.
The second operator late in rent payments, Signature, is another top ten tenant. It is said to be facing liquidity issues due to difficulties in borrowing from its working capital lender. To OHI's benefit, unpaid dues were mostly covered by a letter of credit worth over $9 million as of the 3rd quarter, and workout discussions towards an out-of-court restructure were underway. The possible challenge of completing a restructure is the necessity to obtain sign-offs from parties external to OHI and Signature, including the latter's other significant landlord, working capital lender, the Department of Justice, and other relevant 3rd party claimants. Terms of the restructure are contemplated to include provisions for an amount of deferred rent and CapEx funds in a working capital credit line. In the words of OHI Chief Operating Officer (COO) Daniel Booth,
While we cannot predict the ultimate outcome of these third-party constituent discussions, we feel that we have made significant progress and are optimistic that an out-of-court resolution can be realized.
The third operator, Daybreak (not in the top ten by revenue, but by investment as of the 2nd quarter) was mentioned only in passing by OHI CEO Taylor Pickett, as another challenged tenant. Daybreak is revealed during the Q&A portion of the earnings call to have been placed on cash-basis accounting as of September 1, 2017. Asked to elaborate on whether and how this scenario is dissimilar to Orianna's, OHI CEO discloses that they have "really very recently signed up sort of a settlement on forbearance agreement with Daybreak whereby starting in January, they'll pay full rent," and further affirming that they "don't think this is a transition portfolio" and rather a "short-term quarterly issue."
While OHI had remained entrenched in operator issues in the 3rd quarter, it had steered clear of "adverse consequences of potential Medicaid payment reform legislation" and benefited from "CMS's curtailment of certain mandatory bundling programs." Still, there remain costly compliance requirements, such as disaster-related property enhancements (e.g. the Florida State mandate to enhance facility generator capacity within a designated period, prompted by the reported deaths of SNF residents following Hurricane Irma) and the SNF Industry's November 2, 2017 implementation of new federal requirements of participation.
This was the context of the decline in OHI's financials for the quarter, as well as the downward adjustment in guidance. OHI recorded a loss of $47 million in reportable Funds from Operations (FFO, $0.24 per share), versus a $163 million gain ($0.60 per share) for the 3rd quarter in 2016. Adjusted FFO (AFFO) was $ 0.79 per share compared to $ 0.83 for the 3rd quarter in 2016. Revenue decreased to $ 220 million (including $ 13 million non-cash revenue) from $225 million in 3rd quarter of 2016 – attributed primarily to the placement Orianna on cash-basis accounting, whereby OHI recognized no revenue from this operator. The decrease was partially offset by more than $ 300 million of asset sales since 3rd quarter 2016. AFFO Guidance for 2017 was brought down to a range of $ 3.27 to $ 3.28 per share from the 2nd quarter's $ 3.42 to $ 3.44 (at that time increased from the 1st quarter's low of $3.40).
OHI paid out a dividend of $ 0.65 on November 15, 2017, higher by $0.01 than previous. Prior to the distribution, when asked about how secure investors should feel about the dividend in view of the prevalent tenant problems, OHI CEO intimated that the company had built a cushion over the years to afford such a dividend and, further, that they believe the tenant challenges are temporary and they can they can thereby recover part of that cushion in 2018.
In this period, OHI acquired 15 SNFs worth $190 million from unrelated third parties and leased them to an existing tenant. At the conclusion of this transaction, OHI "entered into a $9.4 million loan to purchase the leasehold interest" in another SNF operated by the same tenant. Meanwhile, evaluation of properties worth $ 200 million were under evaluation for potential disposition within 9-12 months.
In the 4th quarter, reportable FFO was $0.77 per share compared to $0.84 per share in Q4 2016 while adjusted FFO was $0.79. Revenues were down slightly from Q4 2016 primarily due to placing Orianna and Daybreak on a cash basis, which resulted in no revenue from either in the 4th quarter. The third operator, Signature, is currently paying 75% of its monthly contractual rent, which is causing receivables to continue to grow, and which was partially offset by the $9M letter of credit mentioned earlier.
Restructurings and workouts with all of its troubled operators continues and without providing all of the details of each, it seems that progress is being made on all accounts. The success of each is still pending of course, and unfortunately, yet another operator, Preferred Care, filed Chapter 11 bankruptcy as a result of $28M jury award in Kentucky. Even though Omega has no exposure to Preferred Care in Kentucky, it does lease 16 facilities in 4 other states. All of those facilities are currently in transition to other operators.
Concerns about the dividend persisted on this call and in fact, it was the first topic addressed during the Q&A session. Pickett again commented regarding the optimism on the dividend payout and added that certain assets that are currently on the sidelines, will be deployed this year to increase FAD and reduce the payout ratio. It does not, however, expect to raise the dividend in 2018 due to the planned pace of dispositions. However, Pickett stressed how confident he was in the payout percentage coverage and sustainability of the current dividend of $0.66 per share per quarter.
The company continued its dispositions and stated it is currently evaluating over $300 million in assets to sell in 2018, a noticeable increase from the previous estimate.
Adjusted 2018 FFO guidance is $2.96 to $3.06 per share and FAD guidance is $2.64 to $2.74 per share. Management expects quarterly FFO to trend upward throughout 2018 and after conducting an intensive analysis by a 3rd party firm, concluded that the demographics look very favorable in 2019
There was no shortage of positive comments by Pickett, who commented,
We own the most SNF properties. We have the most geographic diversity. We have the best decision making data. We have the best in class high end assisted living operator in Maplewood with a significant growth trajectory. And we have significant growth opportunities in the UK. And lastly, we have a deeply experienced and engaged board and management team committed to capitalize on these advantages with a view to long term shareholder value creation.
Outlook
Commentary on OHI's 2017 performance and prospects are generally polarized. On one hand, staunch advocates of the company hold fast to management's track record, the consistently high distributions, and the promised boons of the senior demographic boom. On the other, skeptics hold that legislative and regulatory uncertainties, recurrent/unresolved operator troubles including occupancy declines, and divestments of known healthcare REITs from SNFs are red flags pointing to pervasive, industry-wide problems
Clearly, a better-informed stance on OHI necessitates more than a rundown of 2017 full-year results and a progress update on the four troubled tenants. A compelling plan on how OHI intends to re-establish its right to win in the SNF arena is called for. Seeing how 2017 played out, part of that plan should delineate how the company will: cope with legislative and regulatory changes (whose implementation may be nuanced by state or region), exploit core market opportunities, and resolve operational complications to minimize impact to overall performance.
The last earnings call already revealed a key part of that plan. At some point, OHI COO implied that the Orianna failure was due to the geographic dispersion of its multi-regional portfolio, making it "a lot harder to manage"for any single operator. As he acknowledged, the key takeaway is to strategize and operate on the level of single regions, rather than multi-regional or national levels. In his words:
I think we'll stick to our knitting and stick with acquiring portfolios of a regional nature or if we acquire bigger portfolios that are in multiple regions, then we'll bifurcate those I think with our different operators in those different regions. So I think we're going to make any change … to learn anything from this, is that we really – the success that we've had over the years are with operators that tend to stick in a given region and focus on that region.
The idea is that regional operators have the necessary expertise and relationships (considering depth and breadth), to steer their portfolios through industry headwinds while also addressing community or property-level concerns without much disruption in operations and the least negative impact on performance. Now the question is whether it can implement.
Valuation
The stock is down another 19% since we wrote about it back in October, when we were still very uncertain about the company's prospects but were tempted by the cheap valuation. Needless to say, its much cheaper now and the company's woes are still prevalent. It now trades at a Price/AFFO of around 9x and dividend yield of 9.6%. Until we get better visibility or see more progress regarding the company's challenges, we remain on the sidelines and are comfortable missing out on any initial pops in the stock. There is simply too much downside risk here.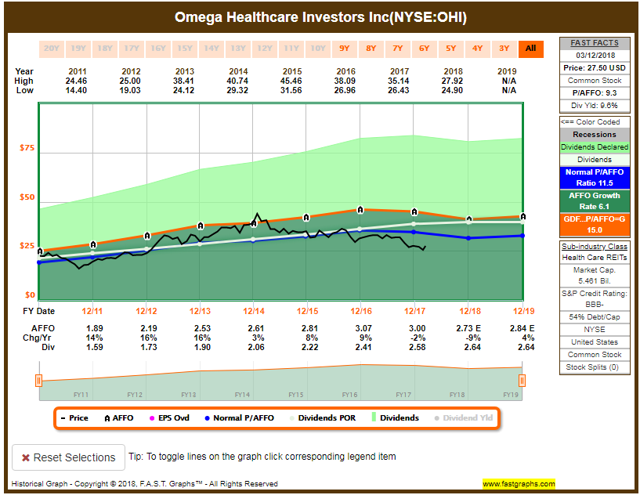 The stock is still in a downward trend and despite its recent recovery, the company still faces fundamental headwinds and technical resistance.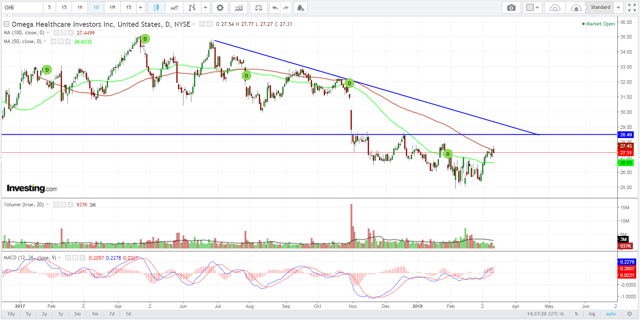 Disclaimer: Please note, this article is meant to identify an idea for further research and analysis and should not be taken as a recommendation to invest. It is intended only to provide information to interested parties. Readers should carefully consider their own investment objectives, risk tolerance, time horizon, tax situation, liquidity needs, and concentration levels, or contact their advisor to determine if any ideas presented here are appropriate for their unique circumstances.
Past performance is not an indicator of future performance.
Investing in any security has risks and readers should ensure they understand these risks before investing.
Real Estate Investment Trusts are subject to decreases in value, adverse economic conditions, overbuilding, competition, fluctuations in rental income, and fluctuations in property taxes and operating expenses.
This post is illustrative and educational and is not a specific offer of products or services.
Information on this blog is not an offer to buy or sell, or a solicitation of any offer to buy or sell the securities mentioned herein, nor is the author compensated by any of the products mentioned.
Information presented is believed to be factual and up-to-date, but we do not guarantee its accuracy and it should not be regarded as a complete analysis of the topics or subjects discussed.
Information presented is not believed to be exhaustive nor are all the risks associated with the topic of each article explicitly mentioned. Readers are cautioned to perform their own analysis or seek the advice of their financial advisor before making any investment decisions based on this information.
Investment decisions should be based on an individual's own goals, time horizon, and tolerance for risk. Nothing in this content should be considered to be legal or tax advice and you are encouraged to consult your own lawyer, accountant, or other advisor before making any financial decision.
All expressions of opinion reflect the judgment of the author, which does not assume any duty to update any of the information
Any positive comments made by others should not be construed as an endorsement of the author's abilities to act as an investment advisor.
Disclosure: I/we have no positions in any stocks mentioned, and no plans to initiate any positions within the next 72 hours.
I wrote this article myself, and it expresses my own opinions. I am not receiving compensation for it (other than from Seeking Alpha). I have no business relationship with any company whose stock is mentioned in this article.