I have been covering Kimco Realty (NYSE:KIM) for quite some time. my first article was published over six years ago, on January 2012.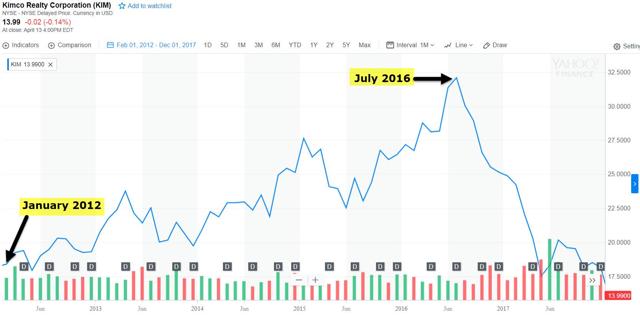 I thought it would be interesting to recap a few of my comments on KIM related to my first article:
Kimco was selected as the "top pick" out of all 75 REITs that are followed by RBC Capital Markets.
Raymond James has also chosen Kimco as the top "shopping center REIT" in its stable of multi-tenant retail REITs.
Kimco is a leader and the decades of consistent returns are an exceptional indication of shareholder value. (Since Kimco's IPO the REIT returned around 13% annualized and that compares to 10.4% with the NAREIT index and 8.1% with the S&P 500 index.)
As you see below, KIM has drastically under-performed since July 2016: KIM -42% vs (VNQ) -7.8%.
In hindsight, I wish I would have steered away from retail REITs in 2017, and waited on the "retail apocalypse" to play out. However, I was able to maintain sound portfolio diversification across all property sectors and sub-sectors, in which my Durable Income Portfolio out-performed in 2017 (+12% Total Return).
As most of my readers know, I am a value investor, always seeking to buy REIT shares for less than their intrinsic value. As KIM shares have continued to fall, I have been paying close attention to the shares, to price declines, while also looking hard at fundamentals. As Ben Graham once remarked, "earnings are the principal factor driving stock prices."
Following the principles of value investing, if stocks are cheap, you buy them. You forget all of the noise that is swirling around you and take advantage of stocks on sale. Warren Buffett explained,
"During such scary periods, you should never forget two things: First, widespread fear is your friend as an investor, because it serves up bargain purchases. Second, personal fear is your enemy. It will also be unwarranted. Investors who avoid high and unnecessary costs and simply sit for an extended period with a collection of large, conservatively-financed American businesses will almost certainly do well."
Kimco Has Scale Advantage
Kimco Realty (KIM) is one of the largest publicly traded portfolio of neighborhood and community shopping centers in North America. The company was founded in 1958 and listed shares in 1991. In 2006, Kimco was added to the S&P 500 Index.
As of Q4-17, its well-balanced portfolio consists of 492 U.S. shopping centers comprising 83 million square feet of leasable space primarily concentrated in the top major metropolitan markets.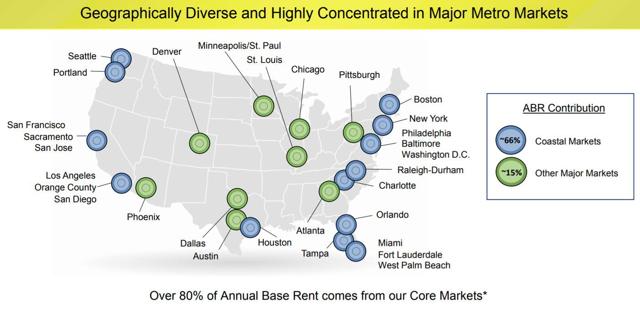 Kimco's focus – the 2020 core principles – is rooted in creating a portfolio of the highest possible quality properties. The company has a very diverse revenue model with over 8,500 leases and 4,000 tenants.
The company has well-staggered lease maturities with limited rollover in any given year, averaging ~8% of GLA (gross leasable area) over the next 10 years. Four of KIM's top 5 tenants are Moody's investment grade, and only 13 tenants have ABR exposure greater than 1.0%.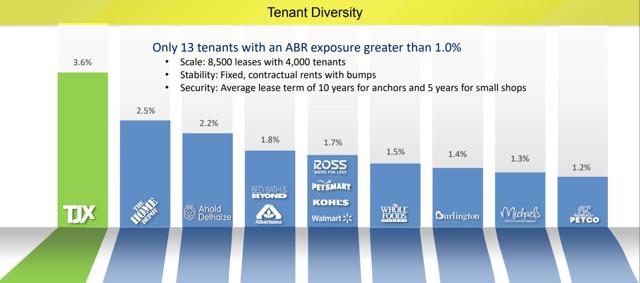 Many of Kimco's top tenants have reported strong sales. Target, Home Depot, T.J. Maxx, and Burlington are continuing to post strong numbers. The REIT is continuing to recycle and said it was winding down its Midwest region operations to focus on coastal markets. Kimco's CFO said:
"we really do believe that there is going to be a significant jump in quality, once we execute on our disposition plan this year."
Around 74% of KIM's ABR (average base rent) comes from grocery anchored centers and 60% of small shop tenants are service based. Also, 56% of ABR comes from Service & Experiential Tenants and 40% of ABR comes from Omni-Channel players. Hers is a snapshot of KIM's leases that reflect changing consumer preference: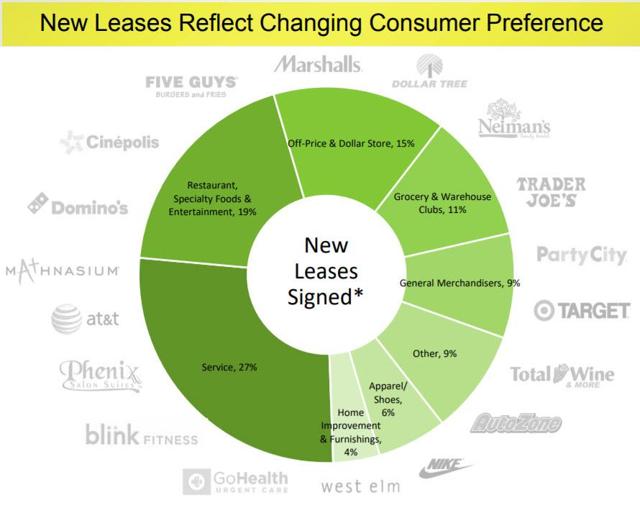 As viewed below, KIM has limited impact from closures of retailers unable to adapt. Note: KIM has ZERO Bon-Ton stores (see my recent article on WPG) and just six Toys-R-Us stores (as per the store closure list below):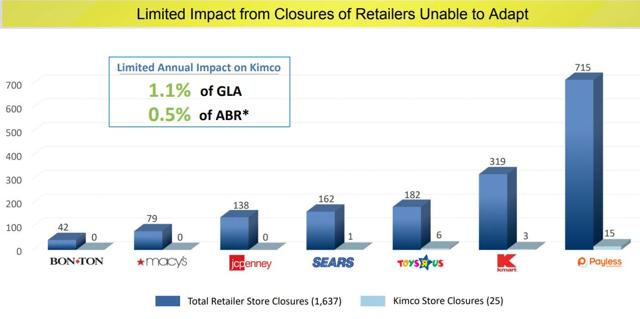 Many of KIM's tenants are successfully implementing omni-channel retailing:

Kimco has Balance Sheet Advantage
Kimco's balance sheet is superior to most peers, the company is investment-grade rated, and it will likely become an A-rated REIT in the near future. The company finished 2017 with consolidated net debt-to-recurring-EBITDA of 5.9x, and on a relative basis, including the pro rata portion from JVs and preferred stock outstanding, of 7.1x.

In December, Kimco issued $230 million of 5.25% perpetual preferred stock, and in the subsequent year end, an additional $34.5 million, as the underwriters exercised their overallotment option.
During 2017, the REIT issued $1.25 billion of unsecured bonds with a weighted average interest rate of 3.78% and a weighted average maturity of 14.6 years. In the past few years, it has increased its weighted average maturity profile to 10.7 years from 5.3 years.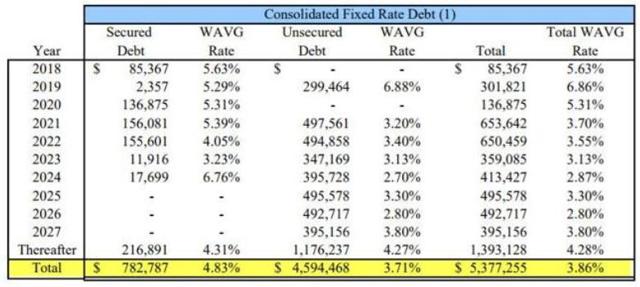 Subsequent to year end, Kimco repaid $162 million of secured debt, leaving only $23 million of debt maturing for the remainder of 2018. The company's liquidity position is excellent, with over $2.1 billion of availability on a revolving credit facility, and just over $400 million of debt maturing through 2020.

On the recent earnings call, Kimco's CFO, Glenn Cohen, explained:
"… the ratings continue to be very important to us. As you know, we are BBB+, solid and stable and continuing to head towards what would get us to that A-, AAA rating."
Kimco has $575 million of perpetual preferred that's all callable today, and the company has already paid $162 million of debt this year. The next bond that it has is October of 2019, and that's at 6X and 7X. Kimco's weighted average debt maturity now stands at 10.8 years, one of the longest in the REIT industry.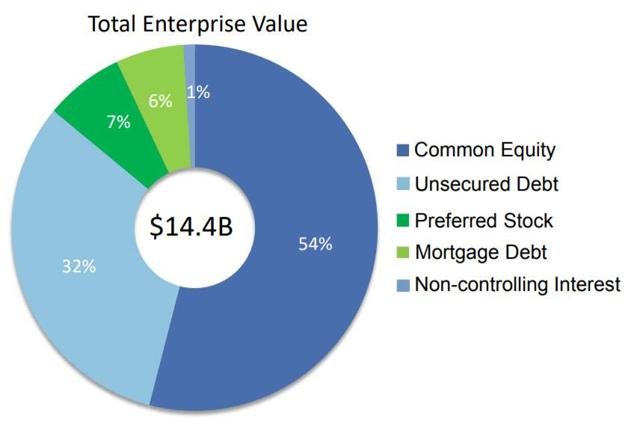 As I will explain below, the company's equity multiple is elevated (25% discount to NAV), so it must rely on dispositions and (re)development to grow earnings. Currently, dispositions are the driving force for Kimco to move the needle (in addition to continued debt reduction).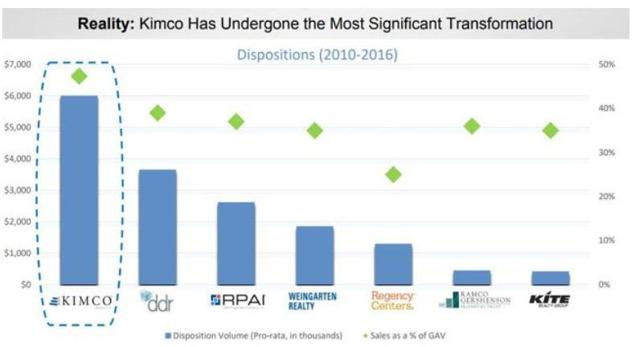 Its primary focus in 2018 is to further upgrade the portfolio by disposing off assets that do not meet the company's long-term objectives.
Kimco continues to strategically recycle assets, which serves double purposes; it strengthens the overall quality of the portfolio and further refine the demographic and geographic mix, and improves the growth capital to support development and redevelopment programs.
Kimco's guidance range assumes net dispositions in 2018 of $700-900 million, with blended cap rates between 7.5% and 8%. The proceeds from these sales will help satisfy the funding requirements related to the development and redevelopment projects, which are projected to total $425-525 million in 2018.
Any proceeds received in excess of the development and redevelopment costs may be used to opportunistically reduce debt, redeem callable preferred stock or repurchase common shares pursuant to the common share repurchase program.
Unlocking Value
Kimco's disposition proceeds will serve to unlock the embedded value from existing redevelopment and development projects, both of which offer significant value creation and outsized yields. These projects include the redevelopment of Pentagon Center and the Boulevard and the development of Lincoln Square, Dania Pointe Phase 1, Grand Parkway Phase 2, and Mill Station.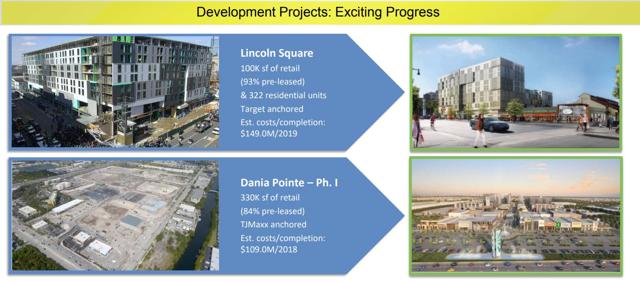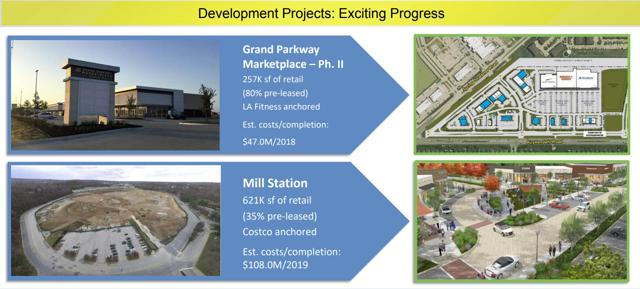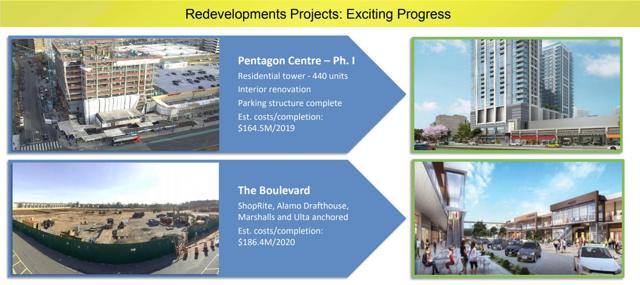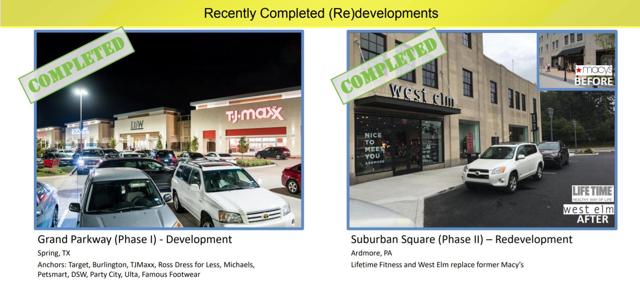 KIM's redevelopment projects are likely to create considerable shareholder value: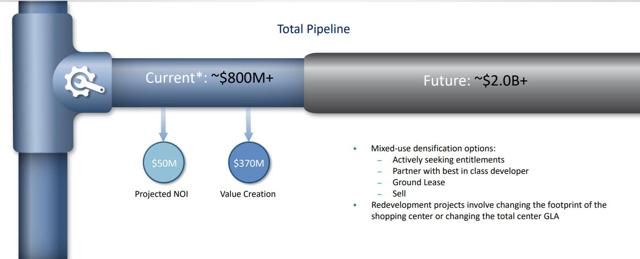 Growth through redevelopment will allow KIM to generate very attractive returns (8-13%):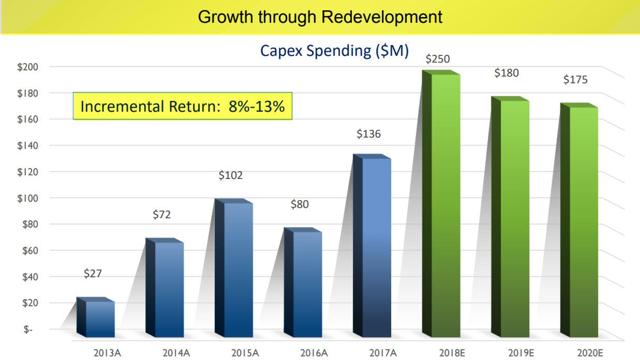 Moving the Needle?
One remark jumped out at me on Kimco's earnings call yesterday. From a prepared statement by the company's CEO, Conor Flynn:
"The lifeblood of the business is leasing, leasing, leasing, and we continue to see strong demand for Kimco's high quality and well-located properties."
Kimco finished off 2017 with a tremendous effort – leasing activity in the fourth quarter capped off a record year with positive trends and occupancy, leasing spreads, same-site NOI, and recurring FFO.
The company entered 2018 with occupancy of 96%, up 60 bps from a year ago and 20 bps since last quarter. Anchor occupancy increased to 98.1%, and small shop occupancy finished the year at 89.6%. For the fourth quarter, new leasing spreads were higher by 13.2%, with renewals and options rising 7.9% for a combined housing leasing spreads of 9.2%.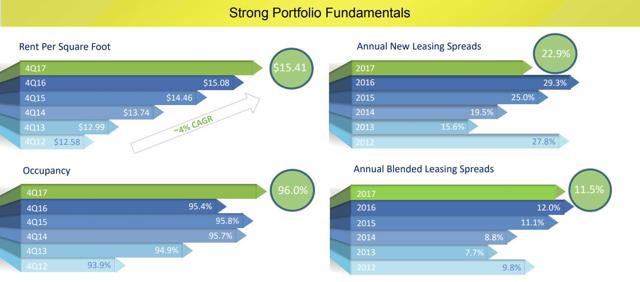 Same property NOI growth was 1.2% in the fourth quarter, and includes a reduction of 40 bps from redevelopment projects and a negative 120 bps due to the impact of Hurricane Maria on the Puerto Rico properties. Absent these items, same property NOI growth would have been 2.8%. For the full year, the REIT's same property NOI increased by 1.7%, including a 30 bps reduction attributable to Puerto Rico.
In Q4-17, Kimco's FFO as adjusted (or recurring FFO) was $0.39 per share, $0.01 above the $0.38 per share reported last year. Its full-year 2017 FFO was $1.52 per share, versus $1.50 per share for 2016.
The increase is primarily attributable to improved consolidated NOI of $18.7 million and lower recurring G&A expense and tax provision of $5.4 million collectively. This was offset by lower JV FFO contribution of $10.9 million due to assets sold and transferred, including those related to the exit from Canada.
The company's FFO growth has been impacted in the short run by the $402 million invested in development projects, which will begin cash flows late in 2018 and into 2019 and beyond.

Kimco's FFO guidance range for 2018 is $1.42-1.46 per share. This guidance range takes into account the dilutive impact of the fourth-quarter 2017 dispositions and the financing costs associated with the $264.5 million of 5.25% perpetual preferred stock that was recently issued.
The guidance range also assumes net dispositions of $700-900 million, with blended cap rates between 7.5% and 8%. The proceeds from these sales will help satisfy the funding requirements related to the development and redevelopment projects.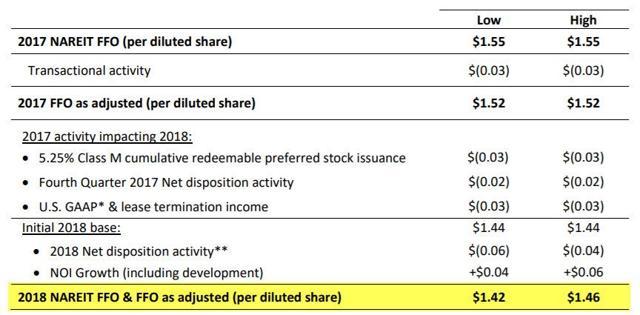 On the earnings call, Kimco's CEO remarked:
"I can assure you that our management team is committed to continually improving Kimco's overall performance and is working tirelessly to achieve each of the steps I just outlined. Demonstrated and continued confidence in our plan, the board has put in place a $300 million share repurchase program, that will serve as another vehicle to return value to shareholders."
He then commented to an analyst:
"We do think our stock is incredibly cheap. I mean, that's the reason why we always have the share buyback program in place, and we do see that as an opportunity to really showcase the disconnect between public and private pricing right now."
Fear Is Your Friend
Mike Tyson said,
"Fear is your best friend or your worst enemy. It's like fire. If you can control it, it can cook for you; it can heat your house. If you can't control it, it will burn everything around you and destroy you. If you can control your fear, it makes you more alert, like a deer coming across the lawn."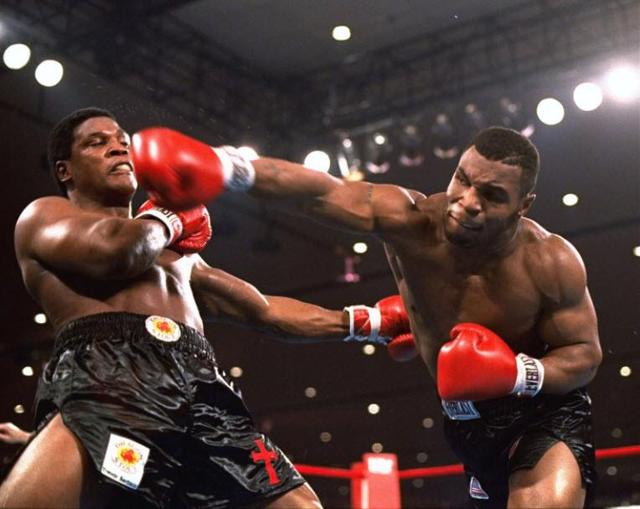 I know, there isn't much in common with Buffett and Tyson, but I like what "Iron Mike" was saying, "it (fear) can cook for you; it can heat your house".
There is no doubt, KIM investors (like me) have been feeling the heat in the kitchen, as evidenced by the chart below:

But, as Iron Mike said, "you can control your fear, it makes you more alert, like a deer coming across the lawn." When I see KIM's dividend yield I begin to feel like Bambi.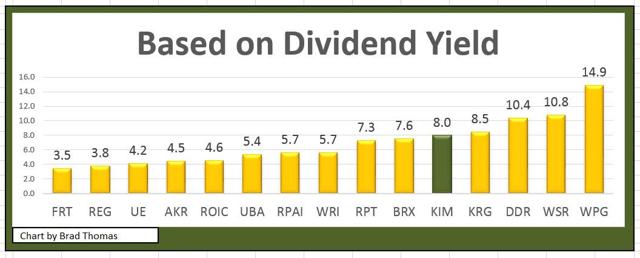 Where else can you get an S&P 500 company, rated BBB+, that is yielding 8.0%? Here is how KIM's P/FFO compares with the shopping center REIT peers:

Keep in mind, KIM is not forecasted to grow earnings (FFO/share) in 2018 (mid-point is $1.44), but growth should begin to unfold in 2019 and 2020. The company has done a good job of navigating the noise, but now it is faced with a challenge in 2018 to sell close to $900 million of assets.
If the company is successful, it can solidify its stronghold as one of the most dominant shopping center REITs, but there is execution risk.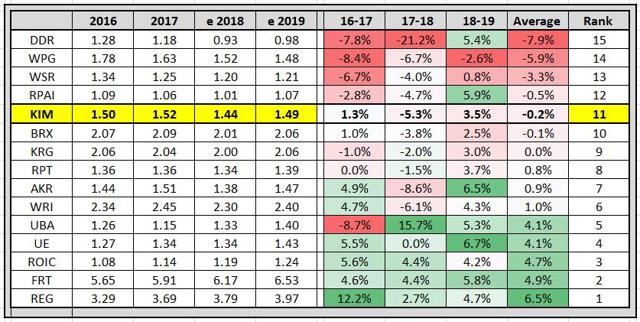 Data: FAST Graphs
Also, the new buyback plan is a positive, but investors should recognize that in order to recycle capital, the company must successfully dispose of a large number of assets. Recognizing the earnings (or FFO) growth will be modest in 2018, the dividend is well-covered, and there is clarity that the company can deliver on its promise. Owning advantageous locations gives the REIT a cost edge, and this leg up can be sustainable given the difficulty of duplication.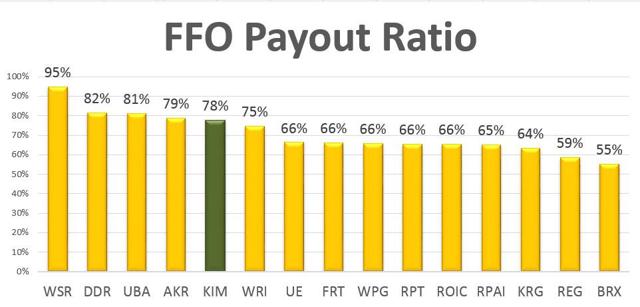 In conclusion, I am standing my STRONG BUY recommendation for KIM and I believe that patient investors will eventually be rewarded. I have been a KIM bull for over six years and I have witnessed, first hand, the transformation from a "conglomerate" into a leading pure-play shopping center REIT. The company's balance sheet is in the best shape ever, and most all of the assets are trophies (no more "junk in the trunk").
So, I agree with the Oracle from Omaha and Iron Mike, "fear is my friend".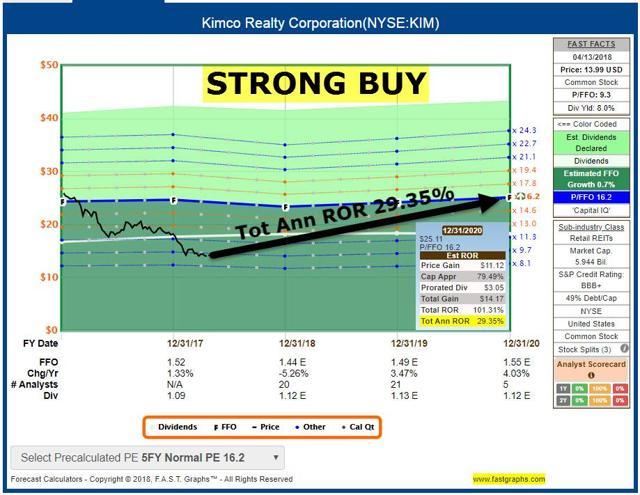 Note: Brad Thomas is a Wall Street writer, and that means he is not always right with his predictions or recommendations. That also applies to his grammar. Please excuse any typos, and be assured that he will do his best to correct any errors, if they are overlooked.
Finally, this article is free, and the sole purpose for writing it is to assist with research, while also providing a forum for second-level thinking. If you have not followed him, please take five seconds and click his name above (top of the page).
Sources: FAST Graphs and KIM Investor Presentation.
Other REITs mentiond: (WSR), (UBA), (ROIC), (FRT), (RPAI), (REG), (WRI), (RPT), (DDR), (WPG), (BRX), (UE), (AKR), and (KRG).
Disclosure: I am/we are long ACC, AHP, AVB, BRX, BXMT, CCI, CHCT, CIO, CLDT, CONE, CORR, CTRE, CUBE, DDR, DEA, DLR, DOC, EPR, EXR, FRT, GEO, GMRE, GPT, HASI, HTA, INN, IRET, IRM, JCAP, KIM, LADR, LAND, LMRK, LTC, MNR, NXRT, O, OFC, OHI, OUT, PEB, PEI, PK, PSB, QTS, REG, RHP, ROIC, SBRA, SKT, SPG, STAG, STOR, TCO, TXRT UBA, UMH, UNIT, VER, VNQ, VTR, WPC.
I wrote this article myself, and it expresses my own opinions. I am not receiving compensation for it (other than from Seeking Alpha). I have no business relationship with any company whose stock is mentioned in this article.