Editor's note: Seeking Alpha is proud to welcome Robert Soos as a new contributor. It's easy to become a Seeking Alpha contributor and earn money for your best investment ideas. Active contributors also get free access to the SA PRO archive. Click here to find out more »
According to research conducted by J.D. Power, a firm's reputation and low trading fees are the two most critical drivers of initial firm selection among self-directed investors. Being an active investor myself, this is hardly a fresh piece of information to me. I'm quite sure that most of the 54 million U.S. retail investors were primarily driven by these two factors.
Regarding low trading fees, since the revolutionary appearance of Robinhood, a new client bait expression that set foot within the brokerage industry, banners promoting zero-commission trades started to flood the online space. Bellwethers like TD Ameritrade (AMTD), E*Trade (ETFC), Schwab (SCHW) and others have turned up the heat on the "pay less, invest more" message as a response to the threat arriving from disruptors.
I have been tempted to jump on to the zero-commission train. However, as a robust desktop platform — enabling day trading — and a wide range of product availability is a must to me, the account change did not happen. Instead, I ended up having the following research questions:
How well are U.S. exchange-listed online brokers performing under decreasing transactional fees, and also under increased competition from new entrants like Robinhood or Tastyworks?

How do online brokers compete against each other considering the transactional fees they charge, and the ability to generate returns for their shareholders?
Brokerage Stock Performance Beating Financials
The road to outstanding stock price performance has been paved by multiple earnings surprises, share buyback announcements, stimulating monetary conditions, economic growth and lifted investor sentiment. Just to compare, E*Trade's nearly 80% five-year annualized return is four times higher than the one of the financial sector's benchmarks, the Financial Select Sector SPDR ETF (XLF).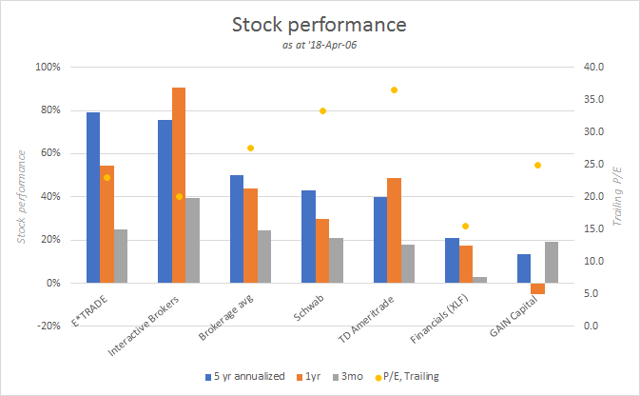 Source: Thomson Reuters Eikon
Looking at a shorter time frame, in 2017 Interactive Brokers (IBKR) had a remarkable year, showing 23% customer account and 43% customer equity growth. This was accompanied by an additional improvement in pretax margins to 62%.
Staying with last year's results, the group's underperformer was the global heavyweight forex broker Gain Capital. Investors have been disappointed by the revenue drop stemming from less trading activity in the OTC retail segment, as last year's market volatility was hardly noticeable. Purely looking at historical stock performance gives an answer to my first research question. Despite melting commission fee levels, listed U.S. stockbrokers managed to outperform the financial sector, beating it twofold to fourfold times.
While my current aim is not driven by giving investment advice for the future, a full analysis shouldn't avoid a P/E ratio check. Following a more conservative approach, the P/E ratios here are based on trailing earnings per share. If we consider the common wisdom of value investors — low P/E ratio stocks have historically earned better returns — at their current market price E*Trade and IB seem to be a better buy, but certainly cheaper ones compared to TD or Schwab.
The brokerage industry's 20-25x P/E ratio is above the ratio of the financial segment. S&P 500 financials stand at a 15.5x trailing ratio; thus, brokerage shares are not a bargain at current price levels. Before exposing how a given broker's stock performance relates to its price competitiveness, let's see what other metrics lie behind the current pricing of brokerage shares and what justified their stock price rally in the past five years.
Brokerage Profitability
I often hear skeptics saying that since the bread and butter of brokers — meaning trade commissions — is diminishing, the perspective of these companies is rather gloomy. According to this theory, since it's hard to increase or even maintain revenue, the only way for brokers to improve margins is cost cutting.
Actually, this belief is factually wrong, as the bread and butter for most online brokers does not come from transactional fees. As proof, here is what Charles Schwab has said in its latest 10-K filing: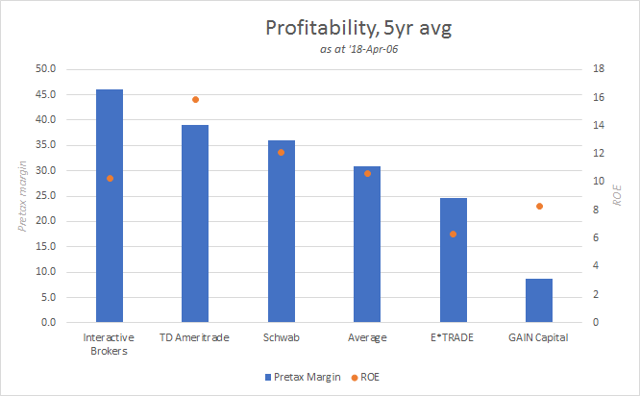 Source: Thomson Reuters Eikon
Net revenues of Schwab totaled $8.6 bn in 2017. What was the proportion of trading fees for this amount? Only 7.6%. The core of the revenue is built up by interest income ($4.2 bn) earned on segregated cash, cash-like securities, and margin loans. The other big bulk is derived from asset management fees ($3.9 bn), including mutual fund and ETF fees plus advisory fees. The only outlier of the group is Gain Capital, not surprisingly, as forex trading fees involve spread cost and rollover fees based on currency interest rate differentials. Other fees contribute marginally to net revenue.
Summing up the numbers, client equity growth and prevailing interest rates are much more essential than trading fees for U.S. brokers from a net income perspective. Analyzing the five-year revenue growth figures, I see a 9.5% average increase for the group. So it's safe to state that declining commission fees do not paralyze revenue growth.
Browsing the operational expenses, most brokerages — except for Gain Capital — are past their post-crisis cost-cutting focus, with salary and wages being the biggest expenses generally on an ascending trajectory. In all, pre-tax profit margins for the stockbrokers were also improving as 12-month trailing margins reported are all above the five-year averages.
The Value of Brokerage Employees
The final metric I like to add for each of my company comparisons is revenue per employee. Essentially, this is an efficiency metric, but also a gauge of ability to employ the most qualified personnel. It also shows which company is already replacing human resources efficiently where possible, so that it can operate with fewer employees.
While Interactive Brokers is clearly stands out from the competition as employees are able to generate an astonishing amount of revenue — more than $1,500,000 per person — we know that it's more tied to IB's discount brokerage status and operational efficiency than its success to digital transformation. Brokerages that have a relatively large human workforce — but are definitely not discount brokers — have a big opportunity waiting to be tapped. To further attract clients, they can — in fact, they need to — offer high service standards but in more innovative ways, like robo-advice, chatbot customer support, and mobile trading.
Eventually, this will lead to less human workforce needed. In contrast to layoffs driven by cost-saving needs, replacements driven by innovation are seen as a buying signal by investors.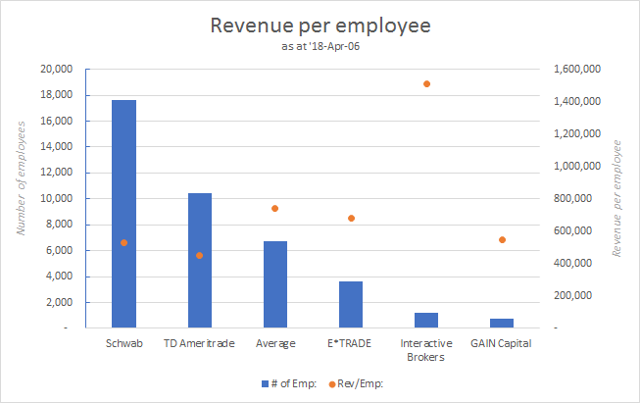 Source: Thomson Reuters Eikon
An Alternative Brokerage Evaluation
So far, it has been demonstrated that U.S. brokerage shares were soaring based on company fundamentals, but also on favorable macroeconomic conditions. Given this background, the below calculation shows the number of trades a given brokerage was able to provide based on its five-year stock price performance, and the latest reported average commission per trade figures.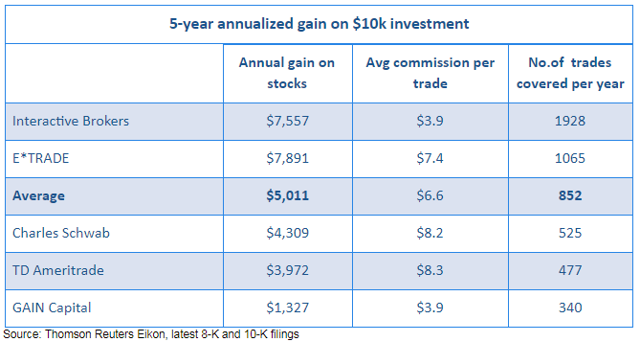 As an example, if you had a $10K account with Interactive Brokers, the annual returns would be enough to cover more than 1,900 trades per year. Obviously, this is an average number only; purely trading with major stocks and ETFs would result in even more trades. On the other hand, investing in mutual funds or exotic commodities would lead to fewer trades.
Also, the calculation is only taking into account the transactional commissions and excludes financing cost, margin loan cost, inactivity fees or advisory fees in case you relied on your broker's advisory services. Practically, this information can be used in several ways. One, it demonstrates a brokerage comparison opportunity from a different angle, and, two, supplemented by further analysis and estimation it can serve as a guide in selecting a brokerage as an investment opportunity. Simply put, the highest number of trades per year figure showcases the brokerage that not only has been the best investment in the past, but also the top destination to trade with.
So, what's the conclusion here?
Slashing commissions does not deteriorate the stock price performance of U.S. brokers, as other revenue streams like client deposit interest are more crucial. In fact, stockbrokers focusing on price competitiveness were favored more by equity investors. The only exemption in this group is Gain, because being a forex broker is still heavily reliant on trading commissions, tied to market volatility.
It would be interesting to see if Robinhood had an IPO how it would perform, given that it is a provider that's even cheaper than Interactive Brokers.
For Bullish Stock Pickers
From an investment perspective, I am bullish on U.S. stockbrokers and neutral on the largest U.S. forex broker, Gain Capital. My first view is based on the finding that client equity growth and prevailing interest rates are the main drivers of brokerage equity prices. With rising treasury yields and further Fed hikes, the top-line revenue growth of the stockbrokers seems to be secured in my view.
From the macro side of the story, my script includes around 3% GDP growth for this year, despite some indicators like retail sales and personal spending showing some weakness.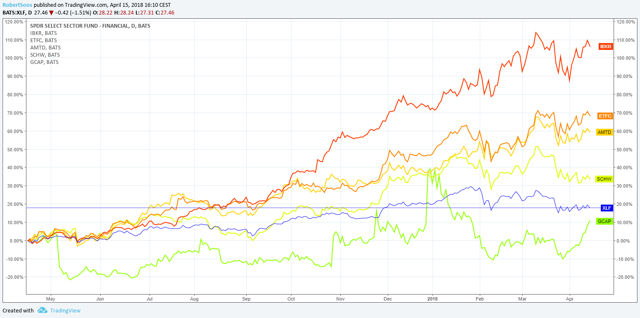 As Q1 earnings are approaching, with brokerages reporting in the third and fourth week of April, I will wait and see what EPS surprises that will bring. In case of uninspiring earnings — leading to a small correction — I would wait until a "buy the dip" opportunity arises, that means jumping in with a buy from daily technical supports. Analyzing the past one year, the touching of the 50- and occasionally even the 100-day MAs was a nice technical opportunity to buy the U.S. stockbrokers.
Disclosure: I/we have no positions in any stocks mentioned, but may initiate a long position in IBKR over the next 72 hours.
I wrote this article myself, and it expresses my own opinions. I am not receiving compensation for it (other than from Seeking Alpha). I have no business relationship with any company whose stock is mentioned in this article.