Bank of America's (BAC) Monday Q1 2018 report confirms that the bank's deposit-and-lending business, as well as diversified revenue streams, continues to create sustained and predictable earnings growth for the bank.
The bank is now experiencing strong levels of return on equity it last saw almost a decade ago; however, that was back when it was still in the midst of recovering from the depths of the financial crisis and thus when said growth was much smaller in absolute terms.
With the bank itself looking healthy, it likely will continue to benefit from the current positive credit and economic growth environment and thereby stay on its current growth trajectory.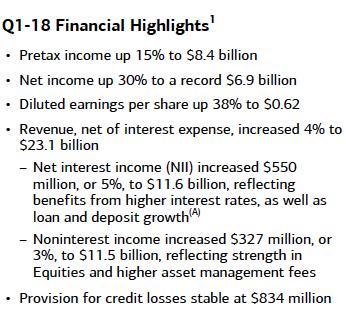 (Source: Bank of America Q1 2018 Earnings Report)
Q1 2018 Was Another Solid Quarter For Bank Of America
The company-level metrics were excellent for the bank, as earnings came in above expectations. Year-on-year quarterly earnings was up 30%, with $6.9 billion in Q1 2018 compared to $5.3 billion in Q1 2017. Both assets and deposits increased at a strong pace, while overall loans edged up as well.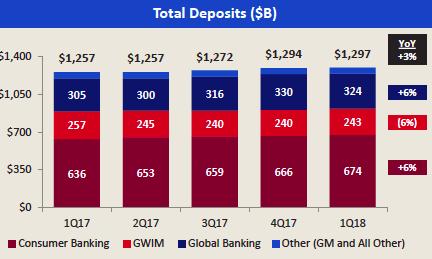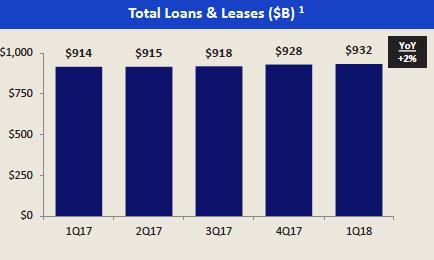 (Source: Bank of America Q1 2018 Earnings Report)
Common shares outstanding actually went down by roughly 900 million shares from 10.29 billion in Q4 2017 to now 10.18 billion. While still an increase compared to the 9.97 billion in Q1 2017, this is a quarter-on-quarter positive directional move for shareholder value.
The efficiency ratio also dropped from 65% in Q4 2017 to 60%, lower too than the 63% in Q1 2017, meaning a marked increase in the bank's ability to generate revenue.
The initial deferred tax asset hit from the tax reform bill, which resulted in Bank of America making a $2.9 billion markdown in Q4 2017 and costing it half of its earnings otherwise during that quarter, is now over and it appears Bank of America is now benefiting as well from the new lower tax rates.
Indeed, Bank of America's income tax expense this quarter was $1.5 billion, down 26% from the $2 billion it had in Q4 2017 despite a 15% rise in pre-tax income from $7.3 billion to $8.4 billion.
Beyond the company-level metrics, the important things to note from Bank of America's Q1 2018 earnings report are that almost all of its varied business segments, ranging from retail banking to asset management to commercial banking, showed healthy levels of continued growth.
As Bank of America is now a relatively varied bank in terms of revenue streams, this means that its diversification will continue to keep its overall earnings capacity at a lower level of risk.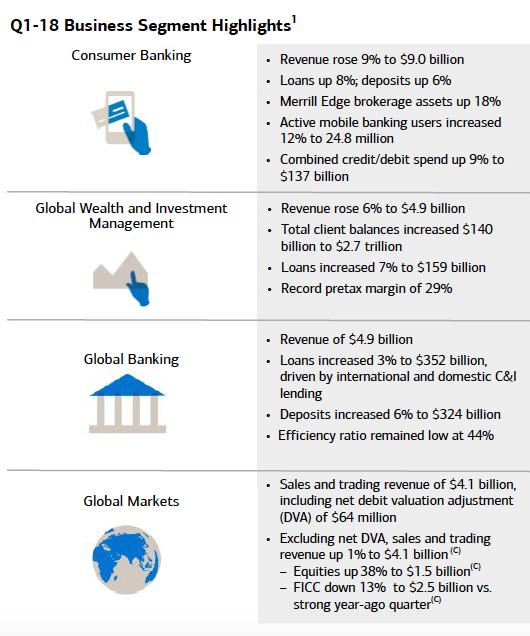 (Source: Bank of America Q1 2018 Earnings Report)
In particular, the bank's consumer banking division roared forward in profitability, going from $2.197 billion in Q4 2017 to $2.695 billion in Q1 2018 (+22.7%), and up from $1.892 billion in Q1 2017 (+42.4%).
The global banking division saw a more modest, but still strong, increase of about 20% in net income from $1.68 billion in Q4 2017 to $2.016 billion.
Also, interestingly, the asset management division's net income soared forward by almost 40%, jumping from $742 million (Q4 2017) to $1.035 billion (+39.5%).
When we look at the extraordinary growth in Global Markets, with an increase in net income from $410 million in Q4 2017 to $1.458 billion in Q1 2018 (+255.6%), as compared to Q1 2017's $1.297 billion (+12.4%), we see that a major reason behind Bank of America's recent earnings boost may have been due to the increase in trading volatility due to the market's fierce turmoil over Q1 2018.
While 2017 was a relatively peaceful year for the markets, seeing consistent and sustained growth in almost all asset classes, it had the ironic effect of reducing Bank of America's and other major bulge brackets' trading commission revenue, particularly from bonds.
However, with the market's ups and downs the past few months, it looks like that crisis has abated, at least for Bank of America. With trading revenue now not only strong but even healthier year on year, the bank looks like to be operating on full steam in all divisions.
Net Interest Income Growing, But Net Interest Yield Stale
Of interest as well is net interest income and the yield.
It appears that beyond the small edge up in net interest yield during some quarters last year amid Federal Reserve interest rate hikes, although much lower than the hikes themselves, net interest yield remained flat.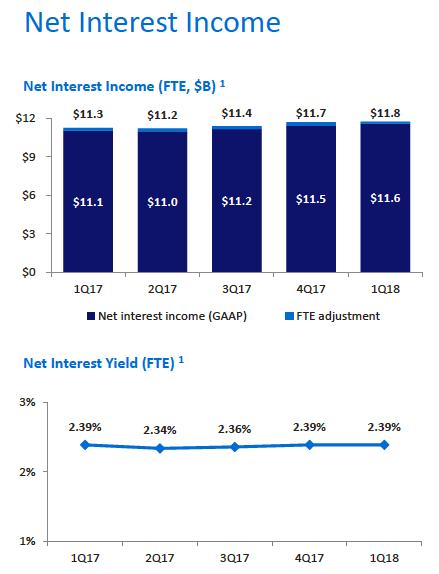 The bank states that the flat net interest yield is from a combination of unloading various previously high-yielding non-U.S. credit card debt as well as an increase in their Global Markets assets, which give less of a return compared to other loans they have.
While this makes sense, undoubtedly investors will soon want to see a clear-cut increase in net interest yield that has seemingly only edged up slightly due to various debt/loan portfolio changes while the federal funds rate set by the Federal Reserve has skyrocketed over this past year an entire 100 basis points while it appears Bank of America's net interest yield has budged 0 basis points.


(Source: Federal Reserve Bank of St. Louis)
Net Interest Income/NII, however, appears to be growing, even if the $146 million increase quarter on quarter seems a bit of a let-down based on the anticipation that has been growing for Bank of America's NII increase.
The bank states that they believe an increase in interest rates of 100 basis points over the upcoming year will result in a gain of an incredible $3 billion in net interest income, which is roughly 6.5% compared to the $46.1 billion in net interest income Bank of America made over the past year.
Whether this guidance materializes, given the lack of increase in net interest yield this past year, remains to be seen. Perhaps this is the new normal for interest rates, which are still stuck in a post-financial-crisis low.
Conclusion
Bank of America had an excellent quarter showing strong profitability across all business lines as well as healthy net interest income and guidance. The bank continues to see its diversified businesses each grow solidly, and previous detrimental factors appear to either not have made an impact or have been already dealt with.
Based on this, the bank's growth trajectory is likely solid and stable, and the bank may well continue to appreciate in value as it continues to move forward.
Marketplace Service:
The investing world is increasingly affected by complex regulatory risks and technological advancements.
I will soon be launching a Marketplace subscription service to provide you with the latest informed insights on opportunities, risks, and developments to help you successfully navigate this new landscape.
Stay tuned! Please feel free to reach out to me if you are interested in this service by direct message.
Disclosure: I am/we are long KBE.
I wrote this article myself, and it expresses my own opinions. I am not receiving compensation for it (other than from Seeking Alpha). I have no business relationship with any company whose stock is mentioned in this article.